I wanted to throw out a reminder that I'll be giving a pre-con at Nashville SQL Saturday 2017. I know that the announcement for it was right before the holidays and things can get lost around the holidays pretty easily. So with that…
I'll be presenting a pre-con named SQL Server for the New or Non-dba on January 13th, 2017 at 8am CST.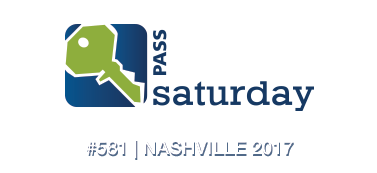 In this all day session on Microsoft SQL Server we will be learning about how Microsoft SQL Server works and what needs to be done to keep it up and running smoothly when you don't have a full time database administrator on staff to help you keep it running.
In this session we will cover a variety of topics including backups, upgrade paths, indexing, database maintenance, database corruption, patching, virtualization, disk configurations, high availability, database security, database mail, anti-viruses, scheduled jobs, and much, much more.
After taking this full day session on SQL Server you'll be prepared to take the information that we go over and get back to the office, get the SQL Server's patched and properly configured so that they run without giving you problems for years to come.
Be sure to go register for the pre-con, as registration is required.
See you at SQL Saturday Nashville.
Denny

The post SQL Server for the New or Non-dba – Nashville Edition Reminder appeared first on SQL Server with Mr. Denny.