DCAC Emergency Response
Why does an emergency always seem to happen at 3 a.m.? When you're facing a: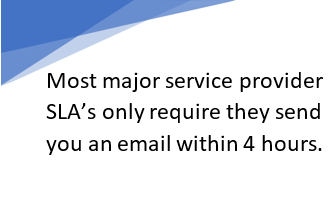 Catastrophic Event
Suddenly Sluggish Production
Unexpected Failover
Ransomeware Attack
You need an expert. Fast.
Even if you just have a business-critical problem, DCAC's Emergency Response experts are only a phone call or email away.
Award-Winning, Globally Renowned Expertise
Enjoy peace-of-mind with the DCAC Emergency Response team at your fingertips:
Five Microsoft Gold and Silver Competencies
80+% of DCAC consultants are Microsoft MVP's
Featured speakers at Microsoft Ignite, PASS Summit
Winner of a dozen national/international awards for IT excellence
Our Emergency Response Package
Includes:
Access to our dedicated Emergency Response Phone Number for critical issues and Email Support system for non-critical issues
Annual DR strategy review with a DCAC expert
8 guaranteed hours of U.S. based IT expertise PER MONTH
Live response from an expert within one hour of contact
Any hour, including holidays
Bi-annual Disaster Recovery testing upon request
Get an Expert on Tap at 80% Savings on Hiring! Contact DCAC Today.