I was minding my own business scrolling through Facebook while sitting on th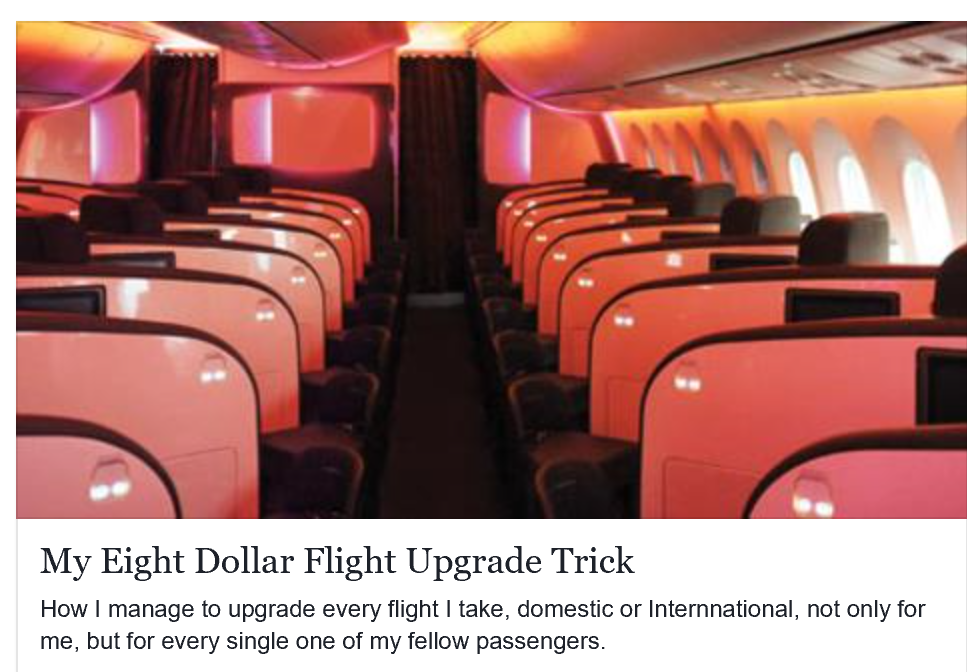 e airport shuttle to the rental car lot when I ran across the steaming pile of BS shown in the image to the right.  If you aren't into reading graphics the title of the article is "My Eight Dollar Flight Upgrade Trick" (which I won't link to).  In the article the author talks about how he buys candy for the flight attendants so that they are nicer to him (shocking, buying gifts for people make it so they are nicer to you).
In this article the author actually says that he doesn't do this to get an upgrade (there's a nice humble brag about getting upgraded all the time due to his status), in fact he doesn't say that this ever works (hint: it doesn't because upgrades are almost always handled by the computer in order; and are done by the gate agent not the flight attendant).
This is what we call click bait.  This happens when the author has written such a crap article, usually about nothing with no actual substance, that they have to trick you into clicking on the article in order to get page views.  When the editors look at the number of page views that they article gets the number looks great, so the author keeps getting contracts to write articles (because clicks and views equal ad revenue).  You've seen these before on Facebook and Twitter.  They come up in all walks of live from IT articles, travel articles, news articles, politics (political authors are REALLY good a writing BS).
When you see this stuff, leave comments about the title being BS. Write to the editors, or better yet if the title seems like crap, just don't read the article.
Denny

The post If your post title doesn't represent your article, you have failed as a writer appeared first on SQL Server with Mr. Denny.