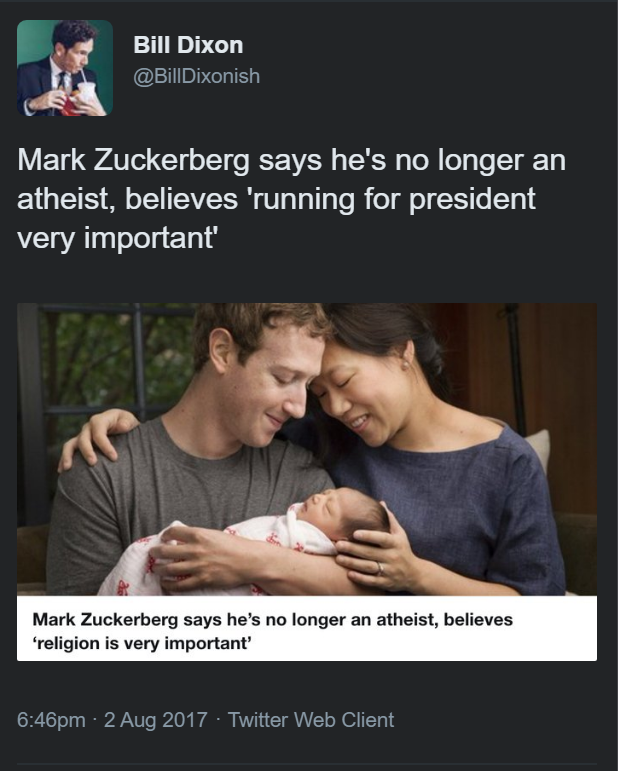 Last week Mark Zuckerberg made a couple of astonishing announcements.  The first is that he's no longer an atheist.  The second is the one that's a little more important to the rest of the world, that he believes "running for president [is] very important".
Now I can't tell you how opposed to this I am.  So much so that I'm going to talk about politics on my technology blog, knowing that it'll be picked up by my companies websites (among others).
Zuckerberg is completely unqualified to be the President of the United States that we live in today.  He's had one job, where he's the boss.  He has no work experience outside of people doing whatever he tells them to.  He has no experience in any sort of public service or government.
He's started a non-profit to help with education, where he's still the boss and things will still be done his way.
He's go no idea how to negotiate for the betterment of others. He's got no idea how to negotiate anything that we know of, as he's got people for that.
He's basically still in his 20s but with unlimited money, and being President seems like a nice thing to do to impress the wife's parents.
We currently have a President with no political experience, who's never had a job where he wasn't the boss (and I'd argue never had a job at all) and who has no sense of reality or real life. Remember a couple of months ago when Zuckerberg went on tour all around the US to learn what "normal" people did?  If that wasn't an attempt to look more like a normal guy, getting his picture taken on a tractor for example, I don't know what is.
If Zuckerberg wants to do something useful in the next presidential election, he should give a billion or two to whatever liberal candidate he wants to support (I'm assuming he's a liberal as he was atheist and now he's apparently Buddhist according to one article I read) and leave the politics to the professionals. We're trying this whole let someone who's a business man (I'd argue that Zuckerberg isn't a business man) be the President and it's going about as expected.
Denny
The post I really hope that Zuckerberg doesn't run for President appeared first on SQL Server with Mr. Denny.