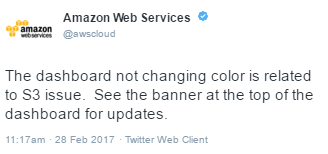 Today Amazon's AWS S3 service in US East took an outage. Along with this outage we see a lot of companies that didn't build DR plans into their cloud deployments.  The most depressing of these was that Amazon AWS couldn't update their status board because it's hosted in S3 in US East apparently.  This is what I call a massive design failure of their application.


Along with the issue where were some great graphics that people were creating, probably because they had nothing else they could do at work.




It's kind of scary just how many services reported as being offline due to the outage. As sampling you can find below.  Even the mighty isitdownrightnow.com was offline.


On top of this there's people that just aren't able to work at the moment because they're either building something against AWS, or the apps which they use are only hosted in a single AWS data center.


Building your systems so that they can survive a total outage of your primary data center is key when putting services into the cloud. You have to plan for your site that's hosting your services to fail. This isn't an AWS issue, or an Azure issue. All the cloud providers will have a failure somewhere along the line that'll take an entire site offline. How you've configured your systems to handle these failures will determine if you can keep working during the outage, or if your staff is sitting around tweeting about how they can't work because your cloud provider is offline.


Denny




The post Another Cloud Outage (#awsdown this time) Another Group of Companies Show They Don't Have DR appeared first on SQL Server with Mr. Denny.

Contact the Author | Contact DCAC