Well the time has come to announce the PASS Summit 2016 Speaker Idol contestants.  We had a great group of people submit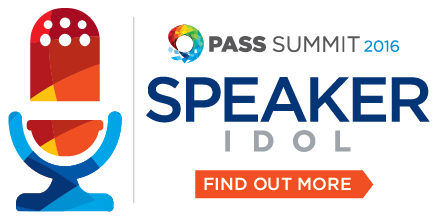 to present at the speaker idol, and I have to say that the selection process was quite tough.  But thankfully it's all over, the folks who have been accepted into this years event have been told (and they replied).  Those you weren't selected have been notified.
All that's left now is to tell everyone else.  The speaker order for each day will match what's listed here.
Wednesday

Thursday

Friday

Daniel Janik
Martin Catherall
Kevin G. Boles
Eric Peterson
Amy Herold
Tom Norman
Shabnam Watson
Tzahi Hakikat
Brian Carrig
Todd Kleinhans
Peter Kral
Robert Verell
For openness, I do know a few of these folks, but that wasn't taken into account when I sorted the list.  As I'm not a judge what I want has no effect on the outcome.
By the Friday afternoon of the PASS Summit we will know which one of these will be the first speaker announced for the PASS Summit 2017.
Speaker idol sessions this year will be in room TCC Yakima 1 (go through the dining hall, down the escalators into the TCC). The Wednesday, and Thursday sessions will be held at 4:45pm. The Friday session will be at 11am. The finals will be at 3:30pm all in the same room. You can find the Speaker Idol sessions published on the schedule. You can either search for "Idol" or "Denny" and you'll find the Speaker Idol Sessions so you can add them to your schedule.
Thanks for supporting PASS, thanks for supporting Speaker Idol, and be sure to swing by the Consultants Corner booth in the exhibit hall at booth 316 to get scanned for our prize drawing and to pick up some of our awesome swag!
Denny

The post Announcing your PASS Summit 2016 Speaker Idol Contestants appeared first on SQL Server with Mr. Denny.