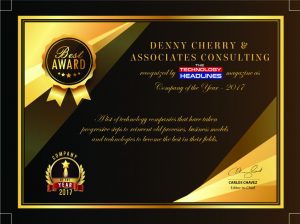 OCEANSIDE, Calif., Jan. 17, 2018 /PRNewswire/ — Denny Cherry & Associates Consulting (DCAC) announced today The Technology Headlines has named them Company of the Year for IT Consulting.
The award is based on an independent review of key players in the industry and sheds light onto how DCAC has created a loyal customer-base, sound marketing strategies, and innovative products and services over the years, primarily due to DCAC's ability to innovate how clients use their Microsoft products effectively, most notably Azure and SQL Server.
Nicole Anderson, Senior Editor at the Technology Headlines commented, "Our editorial team has not only selected a company that is at the forefront of bringing a change in the industry, but also the entrepreneurs that are committed to adding value to customers."
Principal Denny Cherry commented, "We're proud and gratefully thank The Technology Headlines for recognizing us with their 'Company of the Year' award. We're equally grateful to our customers, without whom, none of this would be possible. Their endorsement of our services is foundation of DCAC's success."
About The Technology Headlines: The Technology Headlines covers major industry trends in the U.S. and APAC markets, and is working alongside leading players to document the opinions and the expectations of the global tech community. It also supports the established players in the market to unveil a commercial launch of their new products through its knowledge platform.
About Denny Cherry & Associates Consulting: DCAC is a Microsoft Managed Partner and assists companies with attaining IT goals such as HA, scalability, SQL Server virtualization, Azure Migration and acceleration reliably, while finding ways to save on costs. With clients ranging from Fortune 50 corporations to small businesses, their commitment to each is the same: to provide a deft, high-speed IT environment that leverages every aspect of their platform: from architecture, to infrastructure, to network. Visit www.dcac.co for more information.