I'm a DBA (shocking I know), so I plan everything possible that I can to the servers that I'm setting up for clients. In this case that includes thinking about what's going to happen when the server (or VM) totally fails and they need to rebuild the OS from scratch and get everything back up and running as quickly as possible. In order to help in this task I make sure that all the drives on these servers are named with some sort of descriptive name which includes the drive letter that they'll be using. This way when I have to rebuild the OS on the server I don't have to think about which drives get which letters when I present them all back to the server. Something like this (which is for the tempdb drive of a server). Can you guess which drive letter I'll be using?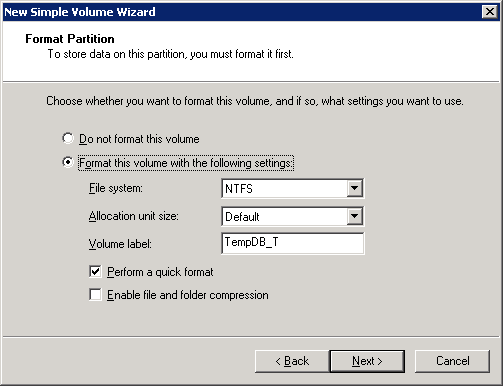 If you said the "T" drive you would be correct. It's that last letter that gives it away. Now granted I have to assume that no one is going to change the drive label for this to work, but so far that hasn't been an issue as it makes perfect sense to people as soon as I tell them why I do this.

I started doing this back in the pre-VM days when we had all the servers as SAN attached servers and when doing system migrations involved moving LUNs from server to server and you needed to reassign drive letters to 10 LUNs quickly. This became a nice easy way to figure out what was what, and it doesn't require any remembering what the server config is.
Denny