I was tagged by Denis Gobo in his post What was your first computer….
My first PC was some Texas Instruments unit my dad bought.  It was pretty much a word processor, I don't even remember if it had any games.  It hooked up to the TV like many units of the day.  We had a printer for it, so we must have had some sort of expansion slot for it.  I think we had the tape player for it as well.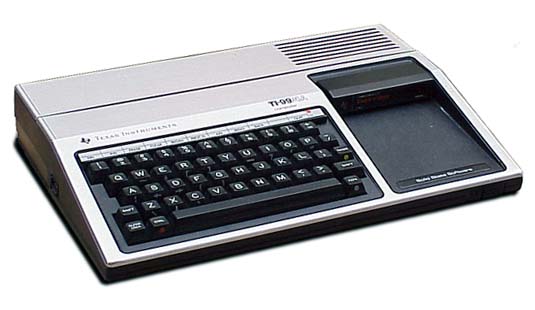 Our first actual PC was an IBM 8080 cloan (the precursor to the 8086 that gave birth to the x86 line).  My parents spent a fortune on it.  It was upgraded to 640k of RAM, a single sided single density floppy drive (so 120k of data or something).  It had a 20 Meg hard drive and a 16 color VGA video card (I used the monitor for like 18 years before I got rid of it).  It came with DOS 3 something on it, and we kept it up through 6.2 I think.  File Manager for DOS was the best addition at the time.
I remember that we had a three button Logitech track ball that was rectangular.  I used that from the time I was 6 until I was 20 when I finely had to replace it (the monitor outlasted the trackball).
I remember that my dad bought be some programming kit for it when I was 8 or 9.  Probably VB for DOS or something like that.  It came with a bunch of games that you could tweak the code of and play.  I remember spending months making my own Brick Breaker levels (they called it something else) and playing them over and over.
The coolest upgrade my dad got for the machine was the modem and a Prodigy account.  I wasted who knows how many hours playing the games that Prodigy offered over a 300 bps external modem.
Since I've now told my story its time for some others to tell theirs.  Time to tag a couple of people I don't normally.
T Jay Belt (@tjaybelt on Twitter)
Woody Pewitt (@woodyp on Twitter)
Denny