Some people just really don't get social media. Recently a twitter account which belongs to a SQL Server training company who based on their website is a legit company. In what I can assume was supposed to be an advertising campaign they completely ruined their social media standing, and in 7 minutes managed to get their twitter account suspended. Grant Fritchey summed up what they did perfectly in this tweet.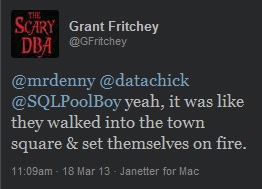 Their plan was apparently to message a lot of people (I counted about 70 including myself) with a link to their website. Apparently a lot of the people who received the message reported them as a spammer because within about 7 minutes of the first tweet their Twitter account was suspended thus ending their social media campaign.
I'm guessing that the goal of the tweets was to drive some business to their training program, but that has managed to backfire.
Lots of people make this mistake, and it's a pretty easy one. Engaging with people that might become customers is a great thing, however engaging with those people doesn't have to mean advertising and shoving your website down their throat. If people want to find your website they will. You don't need to shove it at them. This is the digital version of the flier in the (snail mail) mailbox that everyone just throws away. But in this case the people getting the flier have a way to stop the flier from being delivered ever again. You've been blocked, and probably reported for SPAM which has gotten the account suspended and you'll have to beg Twitter to let you have your account back.
Hopefully they have figured out that this isn't the approach to take, and hopefully if you were planning on doing this you've changed your mind.
Remember Advertising <> Engaging and the goal of social media is to engage not to advertise.
Denny