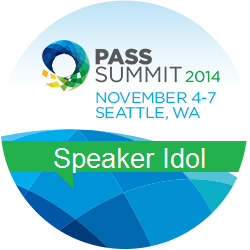 Ever wanted to be a speaker at the PASS Summit? Now is your chance to impress some top notch judges and sign up to be one of the contestants in the PASS Summit Speaker Idol competition. Entering is easy, simply fill out the registration form and if you are selected to be one of the 12 contestants you'll have a chance to win a speaking spot at the PASS summit.  The registration form is very basic, no abstracts just your contact info and why you want to speak at the PASS summit.  And the price is worth your time, the winner of the competition will has a guaranteed session at the SQL PASS Summit 2015.
You can read more about the speaker idol on the Community Session Room page on the PASS Summit site, and all the official rules are available on this blog post.
I hope to see you on stage in the Community Session Room, at the PASS Summit during Speaker Idol, and then hopefully on stage giving your own presentation during the SQL PASS 2015 Summit.
Denny