Are you planning on attending the PASS BA Conference, but you're just looking for that right excuse to get signed up for the conference?  For a limited time (from now until March 31, 2015) if you sign up for the PASS BA Conference and put in my name  and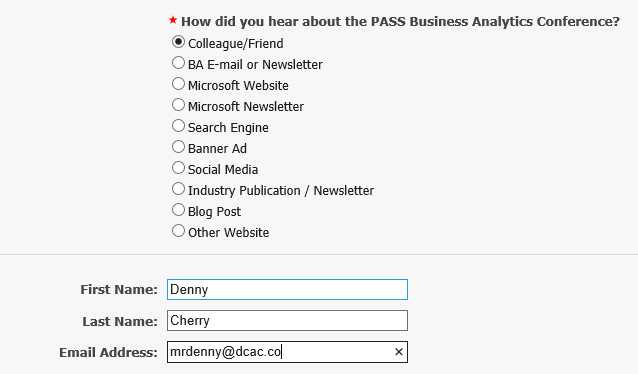 email address as the person who referred you (just like I've posted below),  and you'll get a FREE FitBit Flex activity tracker (the legal stuff is at the bottom).  So go and get registered before the price jumps from $1595 to $1795 on March 17, and either way be sure to get registered before March 31st to get your free FitBit Flex. This offer can't be combined with a discount code and is only available for the next 200 registrations so get in quick!
If you aren't sure if you should go you need to check out the fantastic set of sessions that are scheduled for the conference as well as the top tier keynote speaker, founder of BI Brainz, and author of Data Visualization for Dummies Mico Yuk.  With the session lineup, the speakers and the great sponsor line up this sure does look like the conference to attend for people in the BI and BA space.
Denny


Terms and Conditions: A referral to the conference and eligibility to receive one FitBit Flex (valued at US$99) for you and is defined and limited to a complete registration to the conference not combined with any other offer or discount code. You must enter my first name, last name, and email address in the "How did you hear about the Conference" section of the online registration form in order to be eligible to receive the giveaway. Only one FitBit Flex will be available per individual registering for the Conference. By participating in the above promotion, each participant waives any and all claims of liability against the PASS, its employees and agents, the promotion's sponsors and their respective employees and agents, for any personal injury or other loss which may occur from the conduct of, or participation in the promotion or from the use of the FitBit Flex. Full Terms & Conditions here. This offer can't be combined with a discount code and is only available for the next 200 registrations so get in quick!

Contact the Author | Contact DCAC