As we are all settling into the process of working from home many of us, myself included, have discovered that whatever is behind us in our camera view isn't … camera ready. If we've ever seen my desk, it is usually just this side of controlled chaos. Or well passed controlled chaos depending on the day.
Lots of online meeting software like Zoom and Microsoft Teams has a feature where you can digitally put an image behind you so that people can't see what is behind you. Now this digital background isn't perfect, if you move fast, or have crazy hair or something then it won't be perfect, but it's pretty good.
In Microsoft Teams, join the meeting (either with your camera enabled or disabled) and click the icon in the menu bar with the three dots.

From there select "Show Background Effects". That'll open a menu that lets you select from a bunch of built-in graphics. Simply select one and click "Apply" (or "Apply and turn on video" if your camera is off) and people will see you on top of the image that you selected. Here's me at the beach without leaving the confert of my home office for example.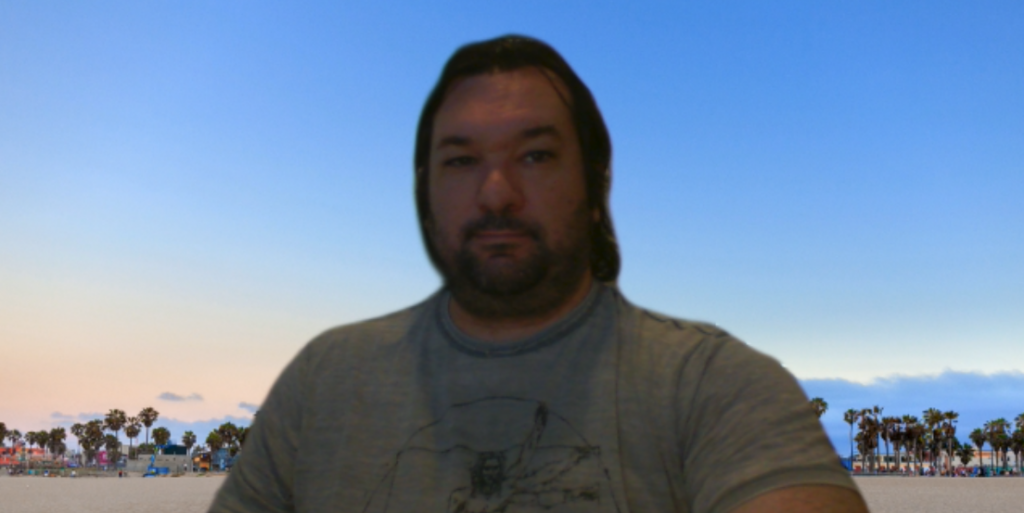 But what if the build-in pictures aren't enough, and you want to upload your own background (or a company background)? That's no problem, you can do that without issue. Simply drop whatever pictures you want into "%APPDATA%\Microsoft\Teams\Backgrounds\Uploads" and they will be at the bottom of the list. I recommend making the images 1366 pixels wide and 852 pixels tall or so. Microsoft Teams (and I assume other platforms that let you use a custom background) will autoscale the image to the correct image size. Leave some room for it to cutoff around the edges at Teams will crop the image a little, so you may need to play with it a little if you have text on it around edges.
Happy online meeting and not cleaning your desks.
Denny