A relational database may not be able to meet all your analytics needs. Let us give you the ability to work with data of various sizes, velocities, and types.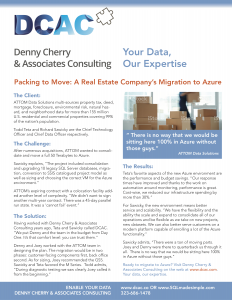 We'll use our experience and expertise to advise you on the right Azure services and architecture to drive insights from your data in a modern data platform. Whether you need an analytics sandbox for data scientists or a robust ETL process that handles schema drift and supports scalability and re-startability, we would love to help you build a solution.
Modern Data Platform services include:
Azure architecture design
Relational database design and implementation
Data Lake design and implementation
Batch data processing (ETL/ELT) design and implementation
Streaming data processing design and implementation
Data security design and implementation
Data retention and archive process design and implementation
Power BI and reporting design and implementation
Data preparation for advanced analytics
"Denny Cherry & Associates Consulting really looks at my whole business. They always keep the customers' interest in mind, and they are always looking for ways to make things run easier, faster and with lower costs. I really love that. He cares about us."

– Luis Ventura, VP of Technology & Development, LCP Tracker
With so many Azure services, don't take the chance that you'll choose the wrong ones for your business needs based upon buzzwords. Contact us today.
Read our case study on Azure migration and Data Warehousing.