Redgate has released v1 of their brand new SQL Clone product. This is a pretty cool piece of software th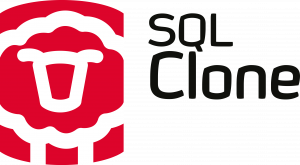 at lets you share dev databases to multiple people within the company without needing to take up a ton of drive space for each person. Picture this, you have a 1TB database and 20 developers that all need a copy of this database on their local PC for development work. Up until today you'd have to have 1TB of storage in each of their workstations and you'd need to spend a ton of time restoring the database to their machines every time they needed a refresh of the database.
With SQL Clone that space and time is no longer needed.  You can, using SQL Clone from Redgate, take your production database backup (that's hopefully been scrubbed of PII) and mount that database to all your developers workstations. This allows them to have full copy of the database without having to actually use the full 1TB of disk space.  Each developer only needs the amount of space to hold whatever data they've changed in the database since it was mounted.  In most cases this is going to be a tiny amount of data as most changes to the application that most developers are working on are only going to touch a very small percentage of the database.  In our example database, if you made changes to 10% of the database in the database that would only require 10 Gigs of space on the developers workstation. Needless to say, a pretty impressive space savings (and cost savings as disk space isn't free in workstations).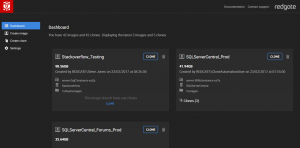 You can see from the dashboard (click the screenshot to enlarge it) that cloning a database is pretty easy.  You click the clone button for the database.  There's a couple of steps to walk through for where you want to put the database, etc. And that's it.
Redgate sums up the SQL Clone tool, pretty nicely "SQL Clone is a database provisioning tool that removes much of the time and disk space needed to create multiple database copies. With SQL Clone, database copies can be created in seconds and each copy uses around 40MB of disk space, no matter the size of the original database. Provisioning requests can be dealt with very quickly, and teams can work locally on up-to-date, isolated copies of the database to speed up development, accurately test code, and fix issues faster."
SQL Clone is so easy, that even Grant Fritchey can clone a database using Alexa.
Now that you're done watching grant yell at some electronic device like a caveman, Redgate would like to give you the chance to win one of five Amazon Echo Dots, and one of the people that get those Amazon Echo Dots will also get a copy of SQL Clone.
How you get entered into this contest is easy.  All you have to do is comment on this blog post with what "skill" you'd like to make your Amazon Echo do if you were to build a skill (and money was no object).  The Redgate team has published a post on how they made it so that Grant can clone a database without touching his computer which should help get those ideas coming.
Some ideas to get you started could be:
Let me know when my databases backups failed
Rebuild the indexes on my database
Remind me to record the TV show Supernatural
You have from today March 6, 2017 until April 30, 2017 to enter by replying to this blog post.
The full terms and conditions of the contest count be found at http://www.red-gate.com/products/dba/sql-clone/entrypage/competition-terms-and-conditions (I know, there's rules, blame the lawyers).
So get commenting to get entered.
Denny