Today is the day that I have the privilege of announcing the PASS Summit 2018 Speaker Idol contestants.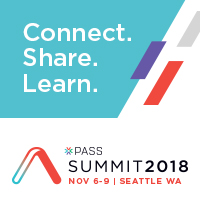 The contestants have been grouped into three groups, with each of groups presenting on either Wednesday, Thursday or Friday.
The groups that we have for the PASS Summit 2018 this year are:
Wednesday (4:45 PM)
Heidi Hasting
Ameena Lalani
Christopher Wolff
Dennes Torres de Oliveira
Thursday (4:45 PM)
Leslie Andrews
Janusz Rokicki
Michael Johnson
Paresh Motiwala
Friday (11:15 AM)
Randolph West
Peter Shore
James Donahoe
Rob Volk
The winners of these three days will then be presenting again in the finals on Friday afternoon at 3:30 pm along with one runner-up.  Each of these 12 attendees to going to get some great feedback from our panel of judges (which I'll announce later).
I wish everyone luck, and all see you at the PASS Summit.
Denny
The post PASS Summit 2018 Speaker Idol Contestants appeared first on SQL Server with Mr. Denny.