I'm thrilled to be able to report that I've been announced as a speaker at the 2017 PASS Summit. I'm thrilled to have been selected as a speaker for the PASS Summit just like I am every year when I get selected.  The specific sessions that I'll be presenting haven't been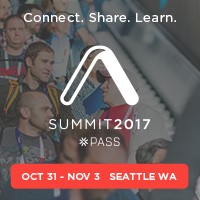 announced yet, but that information should be coming out soon hopefully.  It has been interesting knowing that I'll be presenting while everyone else is submitting sessions, and I have to say this was the most relaxing PASS Summit session submission process I've ever been through (sorry everyone, but this was great not having to stress out anywhere near as much).
I do know that I will be running the PASS Summit Speaker Idol competition again, so be sure to follow this blog and look for the announcement about Speaker Idol shortly after the speaker list for the summit is announced to submit to be a contestant.
Plans are also in the works for our annual Karaoke party Tuesday night (more details will come out soon about that); and like the last several years DCAC will have a booth at the PASS Summit that we'll be sharing with the great team at SQLHA.
Needless to say, it's going to be a busy week for me and the whole team here at DCAC.  The whole team will be at the PASS Summit this year, so come to the booth and say hi, check out our secret SWAG (remember, we had Poke Balls last year and they were a huge hit) and get scanned in for our drawing.
Also watch this blog for information about my PASS Summit Attendee Orientation webcast.
Denny