Configure Read Only Routing
A sub-feature of AlwaysOn Availability Groups, this application will make configuring read only routing much simpler.
How to Use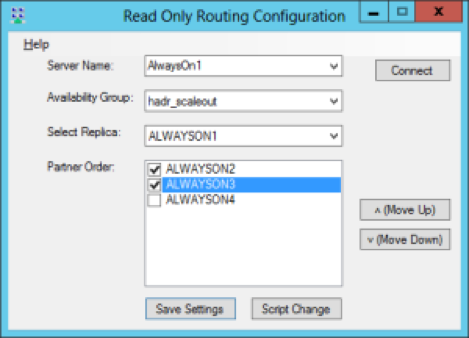 After installing the AlwaysOn Tools:
Run the Read Only Routing Configuration
In Server Name box enter the primary replica & click Connect
Specify the connection information & click Connect to verify
Select the availability group you wish to configure, then the replica you wish to configure
Select the replicas which should be setup as the read only partners and in what order you want them (see image)
Select Script Change to view the T-SQL script which will be executed and/or Save Settings to run SQL Script against the database engine.
Special Notes
Each replica must be configured separately by selecting the replica from the "Select Replica" dropdown menu then selecting the partners which are needed. If a replica doesn't have a read only routing URL configured when you check the box for that replica you will be prompted to configure that as well.
No special objects are created within the SQL Server however configuring of read only routing does require some high level permissions.
If you find any problems please put them in the comments below or via this contact form.
Register and Download